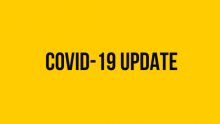 February 16, 2021 – the Saskatchewan Health Authority informed us that there were two cases of COVID-19 at  Harbour Landing School.
For the safety of students and staff, and in consultation with Public Health, we have informed all close contacts and provided them information about self isolation. All schools are currently on February Break. Affected students will begin remote learning following the end of the break and will not return to the school until March 1, 2021.
The school will be open for classes on February 22, 2021 and more information will be shared with the school community at that time.