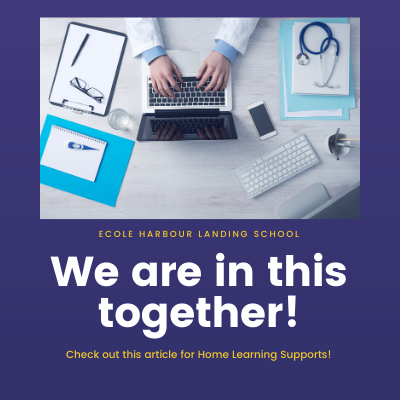 Parents and Guardians of École Harbour Landing School Students,
We are proud of the work that our staff have done as we have all transitioned to a new way of learning online. While this week marks our first full week of this style of learning, we expect to learn a great deal about what works for our students and families as we continue on this journey together. Thank you for your patience as our staff work on creating an optimal Supplemental Learning Experience for your child(ren). Our staff are working hard to do their best to deliver curricula in a user friendly, accessible manner and this online approach to education is new to all of us!
We want to thank parents and caregivers for taking time to talk to us last week and for communicating your child(ren)'s learning needs. We understand that many parents are learning from home and that you may have limited time and technology  to support students with their studies. Please know that parents are not expected to teach curricular content. Whatever supports you can offer your child(ren) in navigating this new way of learning is appreciated. Thank you for doing whatever you can to allow your children to maintain and build upon thier learning as your time, schedule and life circumstances allow. We will focus on mathematics and literacy and expect to add cross curricular themes and areas of study as we continue to develop, grow and evolve in this new educational landscape. Our staff will attempt to make learning opportunities flexible and responsive and we will get through this together. Please know that we are here to support you and your children.
In addition to the materials we are accessing online at this time, Regina Public Schools has a page that parents may access for Home Supports. This site is available here! We hope that parents may find this resource helpful!
Thanks again for all that you are doing for your child(ren)/our students! 
EHLS Admin