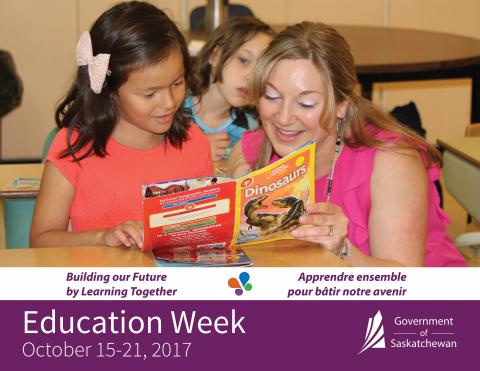 Theme: Building our Future by Learning Together / Apprendre ensemble pour bâtir notre avenir
Dates: October 15 – 21, 2017 / du 15 au 21 octobre 2017
Education Week provides an opportunity to celebrate student success and recognize our dedicated professionals across the province. / La semaine de l'éducation offre une occasion de célébrer la réussite des élèves et de reconnaître nos professionnels dévoués danse toute la province.
Education Week is an opportunity to celebrate the achievements of our students and the dedication of our education professionals this week and throughout the year. / La Semaine de l'éducation permet de célébrer les réalisations de nos élèves et le dévouement de nos professionnels de l'enseignement durant ces quelques jours, ainsi que tout au long de l'année.
This year's theme, Building our Future by Learning Together, is about recognizing student achievement and teaching excellence that occur each day in our Saskatchewan schools while continuing to prepare our students for a brighter future before and after graduation. / Le thème de cette année, intitulé, Apprendre ensemble pour bâtir notre avenir, a pour but de reconnaître les réalisations de nos élèves ainsi que l'excellence de l'enseignement quotidiennement offert dans les écoles de la Saskatchewan qui les préparent aux meilleures perspectives d'avenir, avant et après l'obtention de leur diplôme.
Let's all take the opportunity to acknowledge the dedication and success of our teachers, staff and students. / Saisissons tous l`occasion de saluer le dévouement et les réussites de nos enseignants, de notre personnel et de nos éléves.
Use the #SKedweek