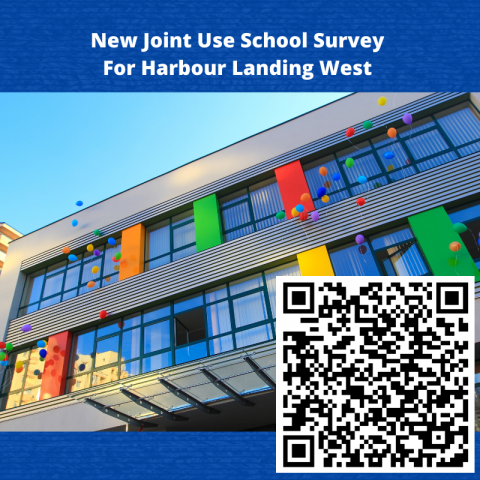 Regina Public Schools and the Harbour Landing School community are at the start of an exciting process to design a new Joint Use School Project with Regina Catholic Schools, and the Ministry of Education. The school is being planned in the Harbour Landing West Development and we believe that the project can greatly benefit from your involvement.

We believe that success in planning a school comes from listening and understanding the diverse wants and needs within a school community's stakeholders: including students. parents and caregivers, staff, administration, municipal and provincial authorities, as well as the greater community.

Your ideas and insights will help inform our design and will help develop the educational spaces that will promote learning and teaching excellence for many decades to come.

Below is a link and attached is a QR code that will take you to an online survey to support this process. This survey should take you 5 minutes to complete. There are three multiple-choice questions and one open-ended question. This survey closes April 13th, 2021.

As part of our next steps, if you are interested in participating in further stages of our engagement workshops, please provide us with your name and email at the end of the survey. Please note that we can only select a limited number of participants.
https://www.surveymonkey.com/r/3GXVYS6