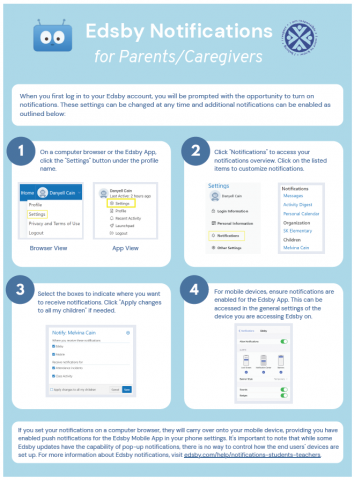 Hello Hawks' Parents & Caregivers,
We know that the transition to Edsby has been great; however, we also know that we (staff, parents and students) continue to learn more about Edsby's capabilities and functions. We are hearing from some parents that they would like notifications to go to their phones and that they may not know how to use Edbsy to see their child(ren)'s grades and assignments. If this is the case, we have you covered!
If you'd like to see how to set up Edsby Notifications, check out this infographic in the picture attached to this article. You can also find more information about Edsby Notifications HERE.
If you'd like to know more about how to view your child's grades and assignments. Use THIS LINK to find out more!
Edsby does have a PARENT HELP section with Frequently asked questions. Please use THIS LINK to get to this area.
Some other topics parents may want to access are below:
There are also Videos for parents:
Mobile Submitting a Planned Absence
Submitting a Planned Absence for your child
Parent Teacher Interviews for Parents